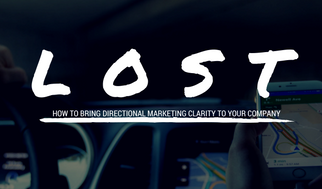 Feeling caught up in the "chaos" of bringing your marketing mix up to speed? As a leading digital marketing agency, it's quite common for us to meet with Presidents, CEOs, Marketing VPs and Business Owners that are feeling the crunch of maintaining a competitive presence in the market while trying to integrate constantly evolving methods and technology. It can be tricky to stay on top, particularly if you're in the process of developing a new strategy for your business.
Getting started can feel overwhelming, even for those with previous experience building a marketing mix. There are countless details to keep track of, analytics to factor in, and it's easy to get lost in the noise.
So, how do you make sure you're set up for success? Follow the two points below.

Stop
To bring directional clarity to your marketing efforts, you need to make sure you're moving forward with cohesion between all streams and departments. It might seem counter intuitive to slow down, but more often than not, taking a brief pause to regroup can be extremely beneficial. Many businesses surge forward with new tools, but fail to properly understand the role each piece plays in achieving their long-term goal; it's only after the budget is spent that errors and missed opportunities become apparent-Certainly not ideal!
As a general rule of thumb, if you can't clearly identify the projected ROI and purpose of each part of your marketing plan, it's time to stop and evaluate.
Focus
Once you've taken the time to regroup, you'll want to focus your energy on decoding your customer base. What does that look like? Creating Buyer Personas can help you hone in on the personality, backgrounds, shopping preferences and goals of your target audience, making it easier to create personalized marketing content that "clicks" with the right consumer.

Tip: Use our FREE persona building guide to get started
If it still seems daunting to put together a marketing plan that maximizes your budget, there's no need to worry. Partnering with a trusted agency (like the award-winning team at Primal Tribe) can eliminate stress by placing your needs in the hands of industry experts. The right marketing agency will want to work with you to determine what your priorities are, and design a custom play that puts you on a smooth course to optimal ROIs.
If the thought of reviewing your current marketing strategy seems like a headache waiting to happen, remember: Stop. Focus. Breathe.

With a little help in the right direction, you'll have a perfect mix in no time!

Primal Tribe is an award-winning Digital Marketing Agency and HubSpot Partner based in Edmonton, Canada. With over 18 years of experience spanning numerous industries, our passion is creating custom solutions to help you reach the right audience with the right message. Contact us today to learn more!