This past week, three members of the Primal Tribe team packed our bags and headed to Boston, Massachusetts to join 21,400 fellow marketers at INBOUND 2017. Below is some of the cutting edge information we brought home from one the world's leading Digital Marketing events!
Inbound is a "hub" for marketing experts around the world (this year over 100 countries were represented) to gather and discuss the leading trends, technologies, sales developments and more. This year, our team was fortunate enough to listen to an all-star lineup of speakers, including the Former First Lady of the United States, Michelle Obama and the CEO of Pixar, Ed Catmull. Most importantly, INBOUND gives our team bigger and better ways to do what we value most: help our customers stand out from the crow and lead the pack.
Here are a few of the key takeaways Primal Tribe is excited to share with our customers, as well as our marketing peers.
Get Ready to Get Personal
If you've been following the PTI blog over the past couple of months, you'll have seen a few pieces that discuss just how important it is to make sure your content has a personalized tone (pssst…you can also read our free guide on creating personalized content here). One thing that INBOUND confirmed is, now more than ever, we're seeing an even more dramatic shift towards meeting your customers where they are. What does this mean, and why is it important?
Ten years ago, a run of the mill website worked as a solid asset when it came to customer education and conversion. It gave desktop users an easy way to find your business outside of traditional business hours, and companies a chance to showcase their services. Fast forward to current day; the expectations placed on a website are significantly more advanced. Mobile and tablet users have become the dominant share of online traffic, meaning that the way your audience engages with your website has shifted drastically. Simply put, your customers want service, and they want it now.
As a result, real-time customer assistance software (i.e. Chatbots, ticketing systems, etc.) have begun to step out of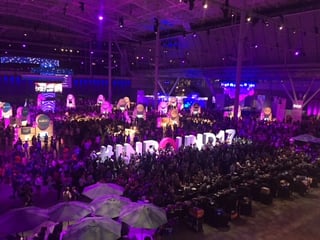 its infancy and to hold its own amongst core solutions for both sales and marketing teams. We wrote about the benefits of these kinds of systems earlier this year and based on a few of the conversations coming out of Boston; it's safe to say your friendly neighbourhood AI is here to stay, and to continue to revolutionize the customer experience. For those of you wary of welcoming "robots" into your business, fear not. The goal is not to replace the "people aspect", but simply to enhance your team's ability to serve your customer's unique needs in a quick, personal manner. By allowing a lead to interact with a reliable software, you cut down the time needed to probe, and allow clients to self-identify their most important pain-points, questions, and objectives early on. As a result, you're able to provide more tailored solutions with less of a wait time. Everybody wins!
Knowing (how to share) Your Voice is Key
Gone are the days of running your business like the Wizard of Oz, hiding behind a curtain and relying on your customers to seek you out. While you certainly want to be able to surprise and delight your audience with new products and service offerings, doing so from a position of authenticity is a major driver to conversion in today's market. With more information at consumer's fingertips than ever before, it's imperative to make sure that your brand is well defined, transparent, and has a marketing strategy in place that allows your company to shine. A surefire way to do this is with consistency and accuracy. Know your buyers and show them that you're not only willing to, but more than capable of, showing up to market with the most valuable information on the block.
How do you reach them?
Inbound Marketing is Your New Hype Man
Inbound Marketing (not to be confused with the INBOUND event) is a methodology designed around attracting customers by producing relevant, insightful, and valuable content that drives a natural conversation. By creating content that can be easily found and consumed, you create a relationship with each potential buyer based an understanding of their needs, building trust and credibility in the process. A proper Inbound strategy is built upon personalized content and can easily help your voice stand out in a sea of mediocre information.
What does INBOUND mean for Primal Tribe?
As we said at the start of the article, the PTI team is passionate about providing solutions for our customers that allow them to connect with and convert their audience. Events like INBOUND give us the chance to refine our internal and external processes to guarantee top results for every client. We are proud to have a mentality of excellence that pushes us to improve and innovate constantly; INBOUND has given us lots of new information to work with! Stay tuned to learn more, and if you're looking to take your marketing strategy to the next level, partner with our award-winning team today!

Your fearless Primal Tribe Team in action (with the addition of our lovely HubSpot cohort)
Ps. As a perk, we've included a few hyperlinks to some information you may find useful to get yourself up to date on current marketing trends. Simply click on the linked text, read, and enjoy. If you have any question, we're only an email or call away!